The Frax Pro Effect
Patients with scars, lesions & wrinkles will notice a significant improvement of appearance. Skin rejuvenation patients will notice toned skin with smaller pores & better laxity.
The Science Behind Frax Pro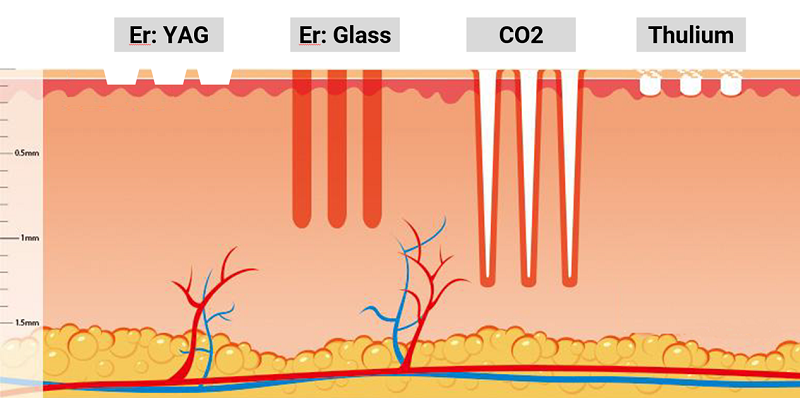 2 in 1 fractional laser
Frax handpieces provides 2 types of wavelengths, 1550nm & new 1940nm generation:
The 1550nm targets water-containing tissues within the depth of 800 microns, which generates thermal effect that leads to neocollageneis and the replacement of old collagen & fibrous tissues with new collagen.
The 1940nm Thulium laser, targets water-containing tissues within the depth of 200 microns, the thermal effect leads to partial evaporation of melanin-containing cells which unifies the skin tone. The thermal effect also rejuvenates the skin through the formation of new collagen.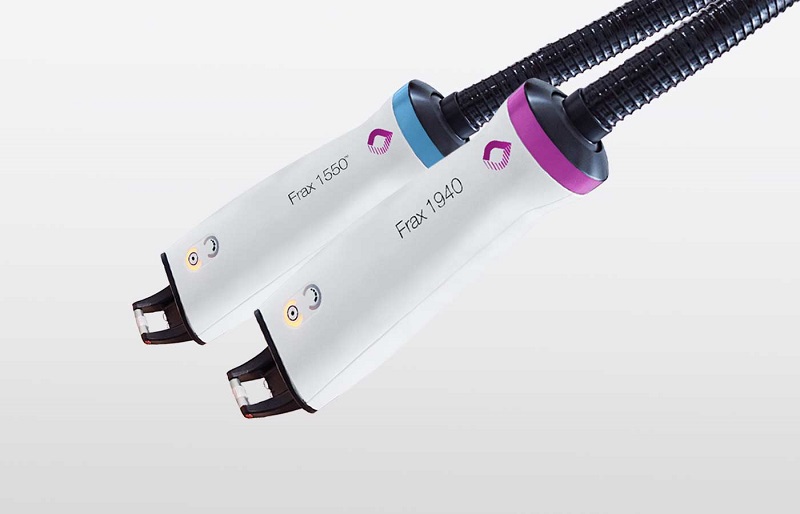 High Safety, Numerous Applicatrons
Both Erbium Glass & Thulium are non-ablative lasers and their effect results in bulk heating rather that skin peeling. This is represented by the high safety of the treatments that voids side effects of other lasers like PIH & scars.
Thanks to the high safety, the downtime is reduced to only 2 days of transient erythema with skin crusting in advanced treatments. Simple treatments like skin rejuvenation requires no downtime.
2 in 1 Laser
Frax offers a choice between 1550nm or 1940nm, or both handpieces. This scalability allows you to start with one wavelength and upgrade later by adding the other one for more clinical applications
Extra Patient Comfort
Frax Pro offers increased patient comfort through a stream of cool air that removes excessive heat before, during & after treatment, realized by the built-in patented air-cooling technology SoftCool™
Higher Profitability
Your practice will benefit from higher ROI with Frax Pro due to the low-to-no running cost & the sterilizable components that reduce the cost per treatment when compared to competitors
Minimizes Operator Strain
You can change shooting angles easily during the treatment with Frax Pro's flexible cable and light handpiece in addition of clear visibility of the treated area. A superior user experience when compared to traditional articulated arm lasers
Variety of Scan Sizes
You will choose from wide range of scan widths (4-12 mm) and densities for a precise match with both lesion size and condition severity. Additionally, Frax Pro provides single tip for all scan widths unlike its competitor
More Patients, Less Restrains
Both 1550nm & 1940 nm demonstrate an advanced safety profile especially in dark skin types when compared to other fractional wavelengths. You will be able to treat more patients with less limitations
Resurfacing with Low Downtime
Your patients will return to their daily activities within few hours up to 2 days depending on type of laser and the used parameters without the need to stay in home like other fractional lasers
Treatment Consistency
Achieve uniform results, keep track of treated area through the magnetic motion roller sensors. Additionally, the sensors stop laser shooting if hand speed is low & sounds an alarm if it is too fast for an unparalleled safety
Built-in Patient Database
You will be able to store patient data and the parameters used and easily retrieve it later through few clicks. Frax Pro ensures clinical precision in the patient program with this feature even if the practitioner is changed
Thermal Impact Control
Frax Pro is the only 1550nm laser that allows the user to set pulse time and energy independently to control depth of thermal impact and tailor it to each patient's needs
Remote Maintenance
Your Frax Pro will be remotely maintained through the smart Remote Assistance feature that allows for online diagnosis & update of the system
Guided & Expert Parameters
Frax Pro provides you with saved parameters for different skin conditions, just select the indication and start treating! Manual selection & saving of parameters is also available for expert users