The Clarity II Effect
Patients will notice thin & thick hair bursting during the session & a reduction in count after the 1st session.
The science behind Clarity II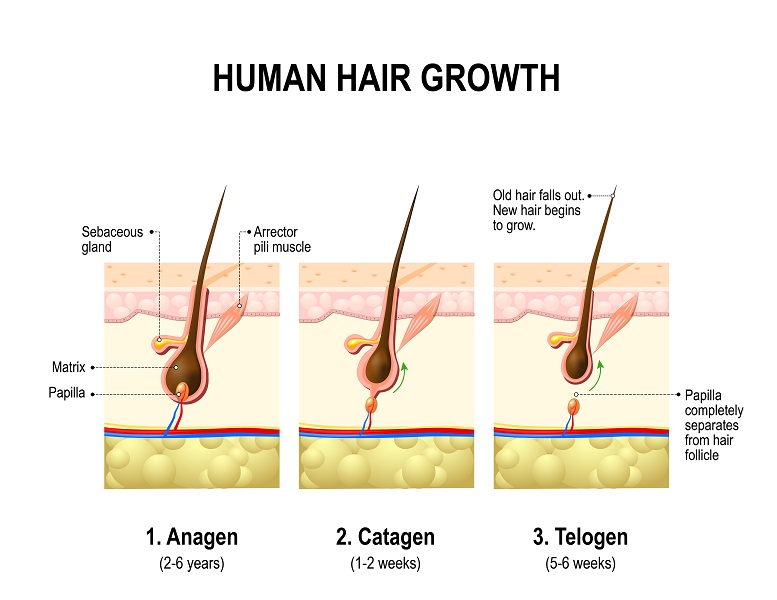 Hair life cycle
Alexandrite & Nd:YAG laser wavelengths have high absorption on melanin, when laser is absorbed, the energy thermally damages bulge & bulb cells, these cells are responsible for hair growth and removing them prevents future hair regrowth.
The hair is rich in melanin & has a life cycle of 3 stages:
Anagen: this growing stage is the ideal target of laser hair removal, the hair is fully attached to the bulge & bulb cells which can be thermally damaged by burning the hair.
Catagen & Telogen: hair in this stage stops growing and is not attached to the bulge & bulb cells, hence burning hair by laser doesn't remove bulge & bulb cells. These cells can be removed once the hair cycle returns to anagen stage, which explains the need for multiple sessions.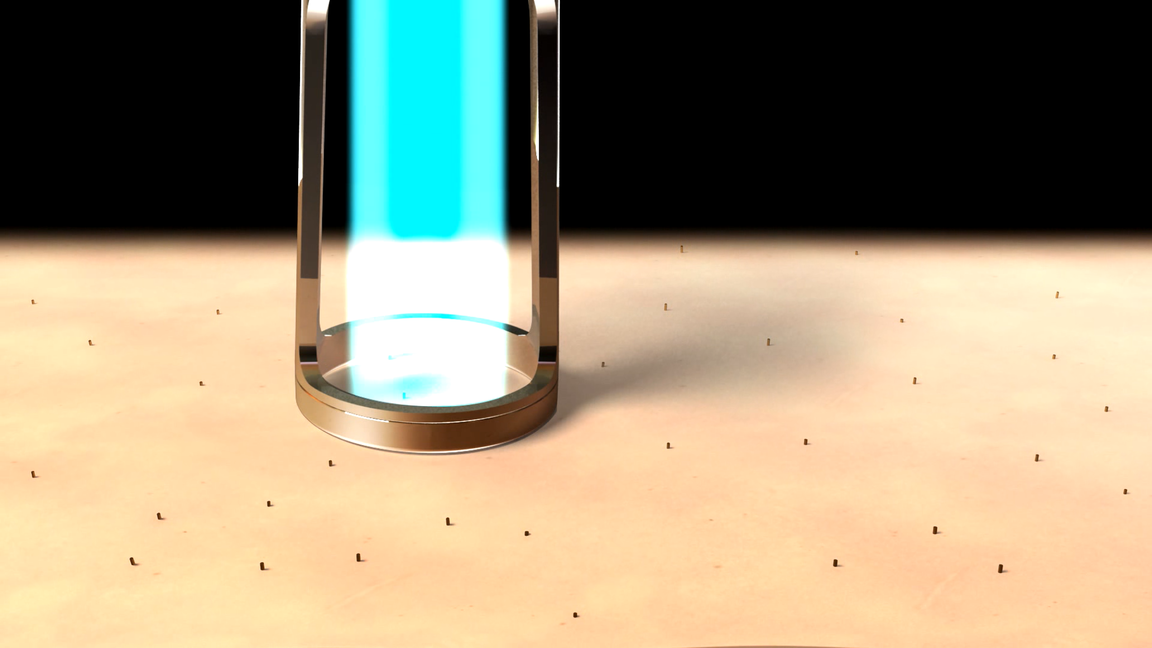 Targeting melanin in hair
Hair removal lasers target melanin which is present in both hair & skin, hence a protection of skin from the thermal effect is needed. Hair removal lasers use different cooling technologies to cancel the thermal effect of laser & protect skin.
Clarity's proprietary Intelligent Cooling Device (ICD) cools the skin precisely & consistently in a way that prevents under-cooling of skin that may cause burns, and over-cooling that may leak to hair itself & affect results.
Hair removal efficacy
Efficacy of hair removal necessitates using a pulse duration shorter than the Thermal Relaxation Time (TRT) of hair, when achieved, the hair gains temperature faster than losing it till it reaches the burning point.
The TRT of the hair depends on its size, smaller hairs have low TRT which needs low pulse duration to reach the burning point.
Clarity II avails 1 msec ,the lowest pulse duration in hair removal supported by the high protection by the patent ICD cooling, which makes it effective in thick thin & resistant hair.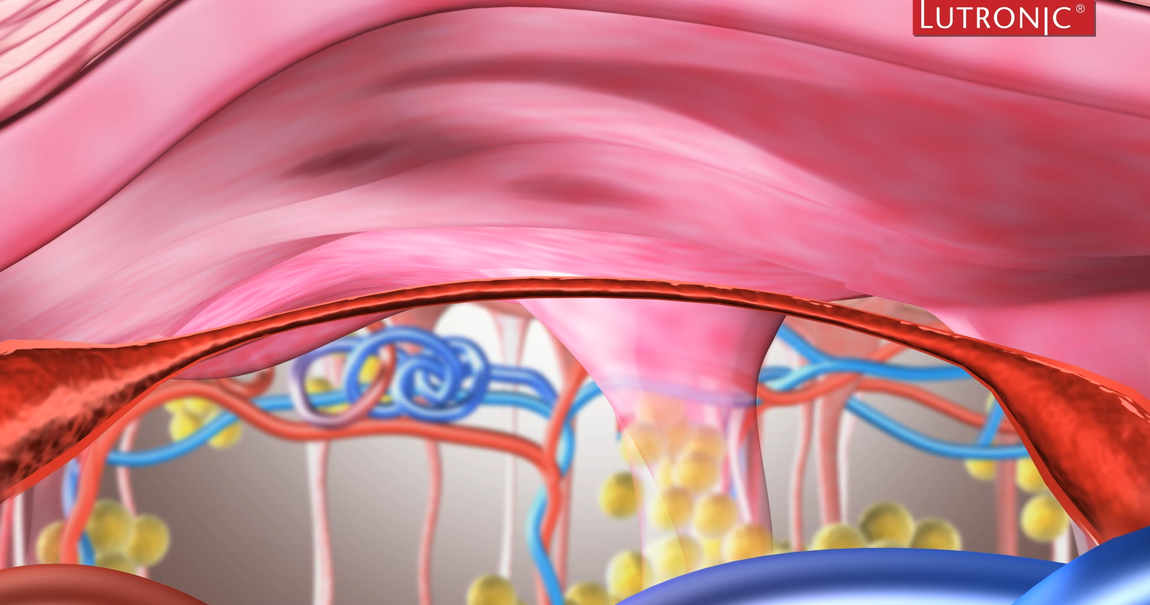 Vascular removal
Oxyhemoglobin absorbs a portion of Nd:YAG laser energy, when laser is used with high enough energy, the vessels supplying the lesion with blood can be targeted and destroyed. Over few treatments the vascular lesion disappears, and the skin appearance improves.
Clarity II provides 2 & 3 mm spot sizes that enable treating small vascular lesions & blue veins with high accuracy & efficacy.
Interested to know more about the product?
Confidence In Safety
Clarity II empowers you to delegate without safety concerns thanks to its real-time temperature sensor that assures reaching the endpoint safely and effectively in skin rejuvenation, vascular & pigmentation treatments
Unified Energy Distribution
Clarity II delivers energy in a top-hat beam profile that ensures an equal energy distribution in both center & perimeters of the spot size. Hence, it increases patient satisfaction by uniform clinical results across the treated area
45% Faster
Thanks to Intellitrack® technology, Clarity II is the first laser that can actually use up to 3.0 Hz repetition rate without overwhelming you with the concerns of double shots nor missing some areas
Operation Intelligence
Clarity II empowers you with several practical features that increase day-to-day operation efficiency like shot counter, saving preset parameters for future use, and memory of the completed treatments with parameters & time
Bursts Thin Hair
Clarity II allows the operator to use the lowest possible pulse duration so far in laser hair removal, 1 msec. This provides excellent clearance of thin & thick hair in the lowest number of sessions and without ending with resistant hair
30 mins Full Body!
Intellitrack® is the 1st technology to enable gliding hands-on-technique, when you glide the handpiece on the skin Clarity II will automatically fire a number of laser shots that match your speed and guide you to reach the maximum speed
The Cold Laser
ICD enables a comfortable & highly safe treatment that became to be known by patients by the name " The Cold laser", Clarity II also avails optional air cooling for those who want it.
Easier To Use
Clarity II provides multi-spot size cartridges with that can be easily inserted by the operator within a few seconds without having to change the whole fiber like in traditional lasers
New Clarity® Generation
When compared to previous generation, Clarity II provides bigger spot size, Intellitrak®, 3 Hz repetition rate, temperature sensor, longer flash lamp life, a detachable window for easy cleaning, and an ICD meter to predict the capacity of canister
Versatile Combinations
Clarity II allows you to use optimal combinations of high fluence, quicker repetition rate, and lower pulse duration together. Other traditional lasers force you to compromise by decreasing one parameter upon increasing the other
No Retouch Sessions
Clarity II is the first technology to enable predetermining the overlap percent by the operator. When combined with Intellitrack®, it assures full coverage of the treated area precisely from the first try
Higher ROI
Clarity II provides 12 different spot sizes from 2 to 25 mm which increases your ROI by completing the hair removal treatment quickly & with fewer pulses. Additionally, you can perform more applications like vascular & pigment treatments
All Skin Types
Clarity II provides suitable choices for every patient, Alexandrite is more effective in fair skin types, Nd:YAG is safe in dark skin types...single wavelength is used in each pulse to match patient need & avoid unnecessary costs
More By Less
The combination of 25 mm spotsize + Intellitrak® + 3Hz speed with the preset automatic overlap enables your practitioner to perform more treatments per day without the exhaustion by the stamping technique that led to hiring more practitioners