The Action II Effect
Patients with scars, lesions & wrinkles will notice significant improvement of appearance, skin rejuvenation patients will notice toned skin with smaller pores & better laxity.
The science behind Action II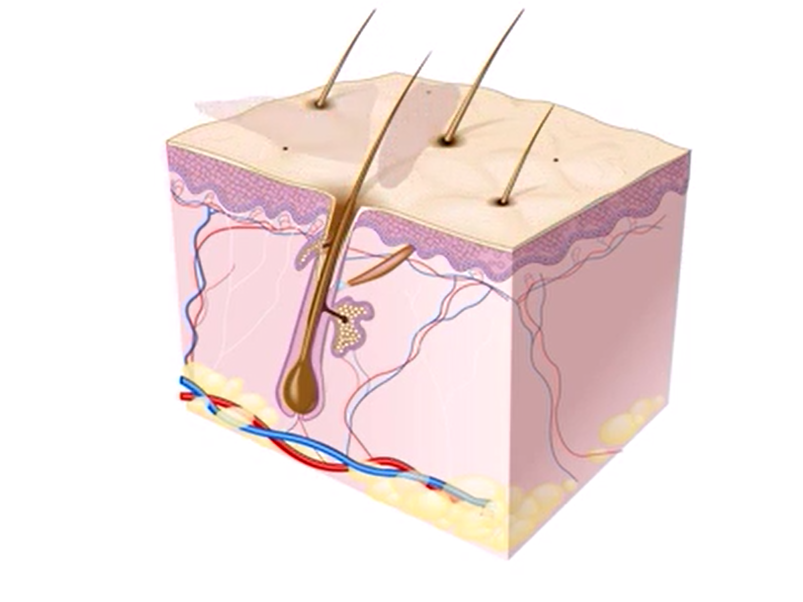 Er:YAG: Safe Resurfacing
Action II works by fractional ablative 2940 nm Er:YAG which is absorbed by water containing cells in skin, this absorption results in evaporation & ablation of the outmost skin layers (selectively epidermis down to papillary dermis) followed by formation of new healthier skin.
When compared to other fractional wavelengths, Er:YAG has higher water affinity & its full energy dose is absorbed before it penetrates deeper in the skin, resulting in less residual thermal damage (RTD) and hence lower risks of dyspigmentation & less downtime to regenerate the tissues.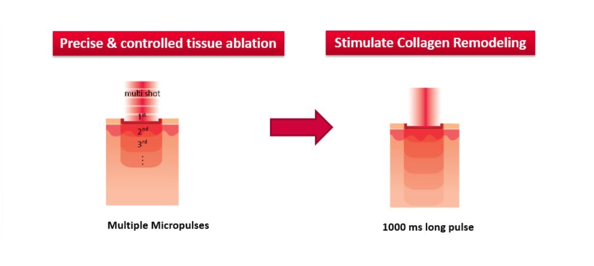 Action II upgraded efficacy
Increased penetration is sometimes required for dermal targets without compromising safety. Action II achieves the best efficacy/safety balance by its patent Multiple stacking technology, this technology allows the doctor to shoot from 1-10 consecutive laser pulses in the targeted area & reach the desired depth in a drilling-like technique.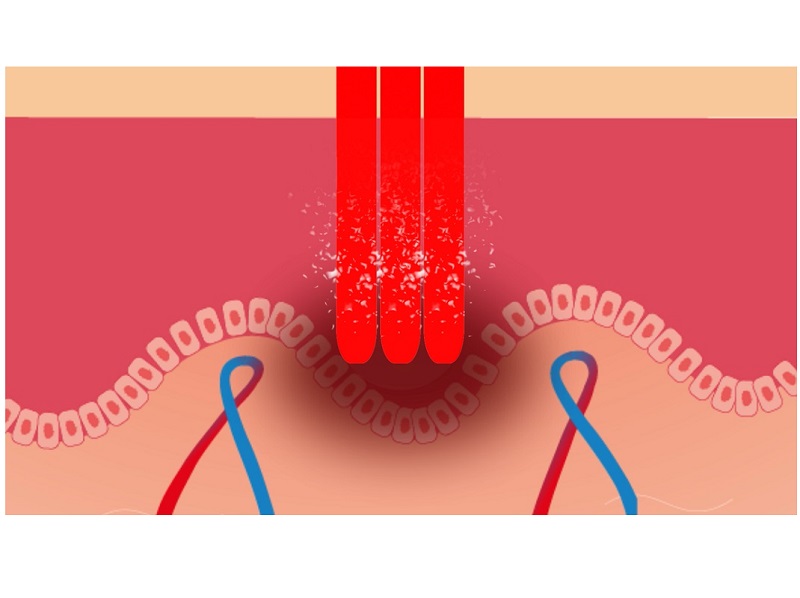 Long pulse mode
The long pulse mode delivers energy relatively slow in a duration up to 1000 ms, this slow heating stimulates tissue regeneration by improving hemostasis & enhancing formation of Elastin & collagen, which eventually lead to faster healing, low downtime & more rejuvenation effect.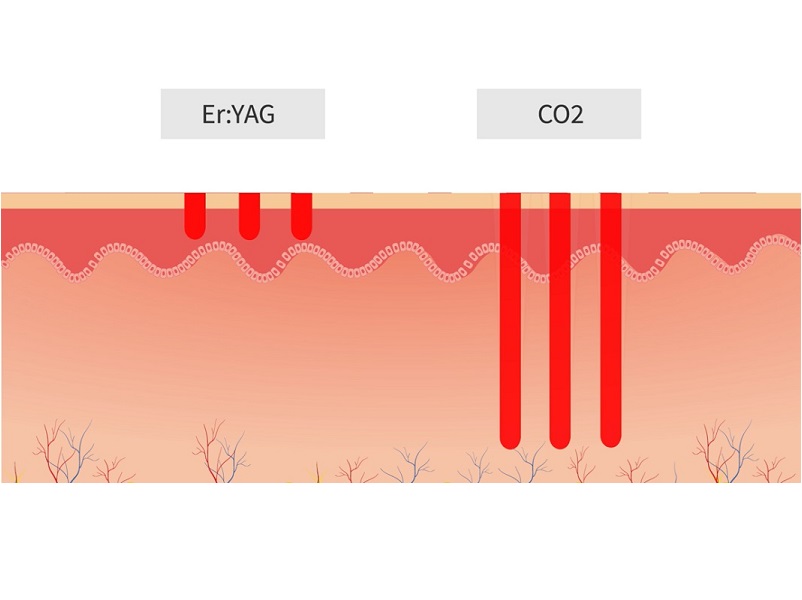 Shining peel
Shining peel unique hand-piece delivers a minimal amount of energy that doesn't ablate skin, therefore anesthesia is not needed in this treatment & it has no downtime.
The outer epidermal area flakes off after procedure giving the shining appearance of new skin layers.
Double the depth of penetration
Supported with Er:YAG's established safety, the multiple stack technology increases penetration by drilling down using up to 10 consecutive pulses for a deeper ablation.
Reduced downtime
Long pulse mode further reduces the low Er:YAG downtime by accelerating tissue regeneration through an increased remodeling of Collagen & Elastin.
Shining laser peeling
The unique shining peel hand-piece provides immediate shining effect, this is achieved by peeling the upper layer of epidermis using a low, non-ablative energy in a treatment that has no downtime nor needs anesthesia.
Dual fractional rejuvenation
Combining fractional mode with long pulse mode reaps the benefits of both skin resurfacing & rejuvenation treatments providing further improvement & versatility.
Homogeneous energy distribution
Action II adopts a top hat beam profile which ensures even & efficient energy distribution across the spot size, unlike other lasers that deliver gaussian beam profile with more heat in the middle & less heat in peripheries.
Clinical & aesthetic applications
Action II triple operation modes (full beam, fractional beam & long pulse) enables the practitioner to treat a wide variety of clinical & aesthetic conditions.
Wide range of controls
Action II offers 17 different spot sizes across 3 hand-pieces & a wide range of pulse duration from 250-1000 ms, this enables the user to choose a parameter combination that match size & condition of the treated area.
Saved Parameter combinations
Action II memory enables saving six sets of favourite parameter combinations & restoring it by a click of a button.
Overcomes human error
Action II has built-in sensors that recognize the attached handpiece & load its relevant parameters, therefore eliminating human error.
Short 20 mins session
Action II has a high repetition rate of 10 Hz, when coupled with the continuous pulsing of its dynamic mode, they reduce the session's duration.
Adjustable aiming beam
Aiming beam brightness can be adjusted according to skin or lesion color which improves the user visibility of the treated area.
Upgradeable system
Ob/Gyn applicators can be added to treat conditions like vaginal tightening & stress urinary incontinence (SUI).